10 Steps To Loving Your Body (No Matter What Size You Are)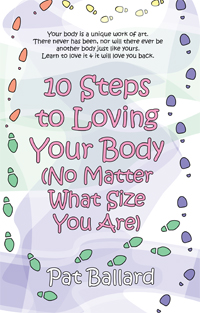 Your body is a unique work of art. There never has been, nor will there ever be another body just like yours. Learn to love it and it will love you back.

"With her wit and wisdom, Pat shares the secrets to eliminating self-loathing. This effervescent book lifts a woman's spirits and toasts life as it should be lived!"

Bunkie Lynn

author of The Big Girl's Guide to Life: A Plus-Sized Jaunt Through

A Body-Obsessed World

"I have been a fan of Pat Ballard's writing, and her vision, for years. If you haven't learned to cherish your life's vehicle―your body―this beautiful little book will make a big beautiful difference. If you already know what is truly important, this book will re-arm you for the sometimes daunting task of living fully at any size."

Janey Milstead

Writer/Editor &

past Editor-in-Chief of BBW

       10 Steps to Loving Your Body (c)

                               by

                        Pat Ballard

1. Never stand in front of a mirror and think negative thoughts about yourself.

2. Never stand anywhere and think negative thoughts about yourself.

3. Search carefully for your good points and when you have found them, nourish them and build on them and cause them to grow daily.

4. Close your mind to any negative words, thoughts or actions that someone might send your way. Don't allow negative thoughts into your subconscious.

5. Always conduct yourself in an honorable fashion and don't allow your mouth to appear larger than your body.

6. Always do your best to look like you care about yourself, as no one respects a slob, no matter what size that slob might be.

7. Learn what your best colors are, what your best hair style is, and what your best clothes style is, and never leave your house without being dressed

accordingly.

8. Always, and without fail, smile and simply say, "Thank you," when you receive a compliment. Never think or say that the compliment isn't true.

9. Stop apologizing about your size. Expect everyone to accept you, respect you, and be

happy with you just the way you are.

10. But most of all, you have to love yourself. When you love yourself, others will love you and respond to you in the exact manner as you feel about yourself.